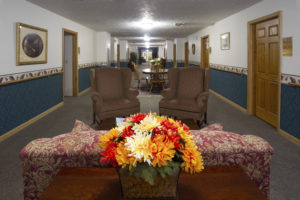 Greystone Country Estates is committed to providing personal care and attention to each of our residents. Our facility offers private and semi-private accommodations and caring and highly-trained staff around the clock.
Our care plan includes: 24-hour professional staffing with assistance for daily tasks like bathing and dressing; dietary services with balanced, nutritious and tasty meals in a restaurant setting; assistance in scheduling doctor's appointments and transportation when needed; professional monitoring and administration of all medications; and daily activities to keep you young at heart.
Rooms are elegant and fully carpeted with all utilities provided, as well as housekeeping and laundry services. We provide comfortable accommodations for couples, an array of activities for residents and their family members and churches within walking distance.
You will feel at ease knowing you are in a secure facility. Greystone is equipped with an emergency system that includes hallway surveillance, exit door alarms and emergency call buttons for each residents with immediate page response.
We invite you to schedule a visit to our facility and see what we have to offer! Contact Us!